'SEX AND LOVE' Release

Postet by Magdalena on Tuesday 18 March 2014
Heute hat für viele Fans die lange Wartezeit ein Ende. Nach vier Jahren ist nun endlich Enriques neues Studioalbum veröffentlicht worden. Deutsche Fans müssen sich noch bis Freitag gedulden.

Da weltweit verschiedene Ausgaben von 'SEX AND LOVE' mit anderen Tracklisten erscheinen, habe ich daher alle 18 Songs incl. Remixe zusammengefasst, die erhältlich sein werden:

'I'm a Freak' feat. Pitbull
'There Goes My Baby' feat. Flo Rida
'Bailando' feat. Descemer Bueno & Gente de Zona
'El perdedor' feat. Marco Antonio Solis
'Loco' feat. Romeo Santos
'Let Me Be Your Lover' feat. Pitbull
'You and I'
'Heart Attack'
'Me cuesta tanto olvidarte'
'Noche y día' feat. Yandel & Juan Magan
'Turn the Night Up'
'Beautiful' feat. Kylie Minogue
'Only a Woman'
'Finally Found You' feat. Sammy Adams
'I Like How It Feels' feat. Pitbull & The WAV.s
'Still Your King'
'Physical' feat. Jennifer Lopez
'3 Letters' feat. Pitbull

'Loco' feat. India Martinez
'Loco' feat. Descemer Bueno
'El perdedor' (Bachata Remix) feat. Marco Antonio Solis
'Bailando' (The Infantry Remix) feat. Descemer Bueno, Gente de Zona & Vein
'Bailando' (DJ Chino Tropical Remix) feat. Descemer Bueno & Gente de Zona
'Me cuesta tanto olvidarte' (Remix)
'SEX AND LOVE' Release verschoben!

Postet by Magdalena on Wednesday 19 March 2014
Wieso bin ich nicht überrascht? In zwei Tagen sollte "SEX AND LOVE" auch hierzulande erscheinen, doch offensichtlich wurde die Veröffentlichung um fast zwei Monate nach hinten verschoben. Bei amazon.de wird bei beiden Versionen als neues Releasedatum der 09. Mai angegeben.
Deutsche Single- und Albumcharts

Postet by Magdalena on Friday 21 March 2014
Enriques neue Single 'I'm A Freak' feat. Pitbull, die bereits am 14. Januar digital veröffentlicht wurde, ist diese Woche in die deutschen Singlecharts auf Platz 89 eingestiegen. Sicherlich haben sich Enrique und die Plattenfirma einen anderen Start vorgestellt, aber ohne Promo ist dies kein Wunder. Hoffen wir, dass es die nächsten Wochen weiter nach oben geht.
Neues Layout

Postet by Magdalena on Sunday 23 March 2014
Nach über zwei 1/2 Jahren war es Zeit für ein neues Layout. Da ich leider keine aktuellen Promobilder habe, musste ich auf ein Layout ausweichen, das bereits seit Juni 2010 auf den Einsatz wartet. Sollte ich wider Erwarten doch noch aktuelle Promobilder erhalten, wird es natürlich wieder ein neues Layout geben.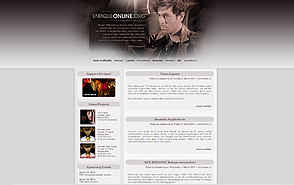 Alle bisherigen Layouts können hier eingesehen werden!
Deutsche Singlecharts

Postet by Magdalena on Friday 28 March 2014
Nachdem Enriques aktuelle Single 'I'm a Freak' letzte Woche auf Platz 89 der deutschen Singlecharts eingestiegen war, kann sich das Lied diese Woche um ein paar Positionen steigern und belegt nun Rang 56.