'El perdón' Release

Postet by Magdalena on Friday 06 February 2015
Mit "El perdón" wurde heute Enriques neue Single in Deutschland veröffentlicht. Die melancholische Ballade, die von einer einst verlorenen Liebe handelt, wurde von Nicky Jam komponiert, der zugleich Enriques Duettpartner ist.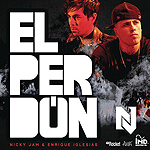 Der Song wurde von Nicky Jams Label Sony Music Latin releast und kann u.a. bei amazon.de gekauft werden.
'Let Me Be Your Lover' Music Video

Postet by Magdalena on Friday 13 February 2015
Enriques Musik Video zu seiner neuen Single "Let Me Be Your Lover" ist ab heute auf seiner offiziellen deutschen Webpräsenz zu sehen. Dazu schreibt enrique.de:

"Was anmutet wie ein sommerliches Puppentheater, ist das neue Musikvideo von Enrique Iglesias und Pitbull zu dem Song "Let Me Be Your Lover". Geschickt in Szene gesetzt von Regisseur Alejandro Pérez, erleben die zwei handgroßen Abbilder der Musiker ein fantastisches Abenteuer. Auf der Suche nach der richtigen Begleitung, düsen sie im Spielzeugauto durch die Szenerie der Großstadt. Klickt euch ins Musikvideo und erlebt mit Enrique und Pitbull ein magisches Abenteuer aus der Perspektive zweier Puppen. Fortsetzung folgt."

Wann oder ob die neue Single überhaupt in Deutschland erscheint, ist leider nicht bekannt. Klicke hier um das Video zu sehen.
Enrique Iglesias Adrenaline Night

Postet by Magdalena on Sunday 15 February 2015
Enrique wird demnächst sein zweites Parfüm auf den Markt bringen und hofft, damit an den Erfolg seines ersten eigenen Duftwassers anknüpfen zu können. Dieses brachte er im vergangenen Jahr unter dem Namen "Adrenaline" heraus und verspricht nun, dass auch sein Nachfolger, "Adrenaline Night" ein umwerfendes Geruchserlebnis wird.



Parfumeur: Guillaume Flavigny Givaudan
Kopfnote: Mandarine, Zitronatzitrone, Veilchenblatt
Herznote: Pomarose®, schwarzer Pfeffer, Safran, Kardamom
Basisnote: Zeder, Tonkabohne, Wildleder, Schwarzholz



Vorläufig wird der Duft nur in den USA auf den Markt kommen. Deutsche Fans müssen sich wie immer gedulden.